an adaptation by Lucas Myers
based on an original script by Brian Turner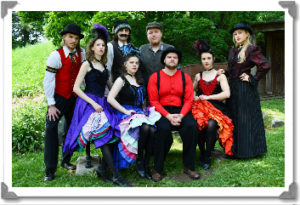 Murphy Inn is a bit off the beaten path, and that's how the proprietor, Oliver Murphy, prefers it. But some of the new hires have gotten it into their heads that to keep pace with the rest of Rossland's hospitality establishments, entertainment should be on offer. Coinciding with the inaugural performance is an unfortunate snow shovelling incident which renders all those inside trapped in the confines of the Murphy Inn with no way out. How will they handle the claustrophobic miner? How will they deal with a dwindling supply of victuals and secrets being revealed? More importantly, will they be able to put on the show that will put them on the map? Once again mixing in a dose of actual Rossland history with songs, dance and a shadow puppet show or two, Trapped at the Murphy Inn continues the Gold Fever Follies tradition of bringing history to life with a story that will delight and entertain.