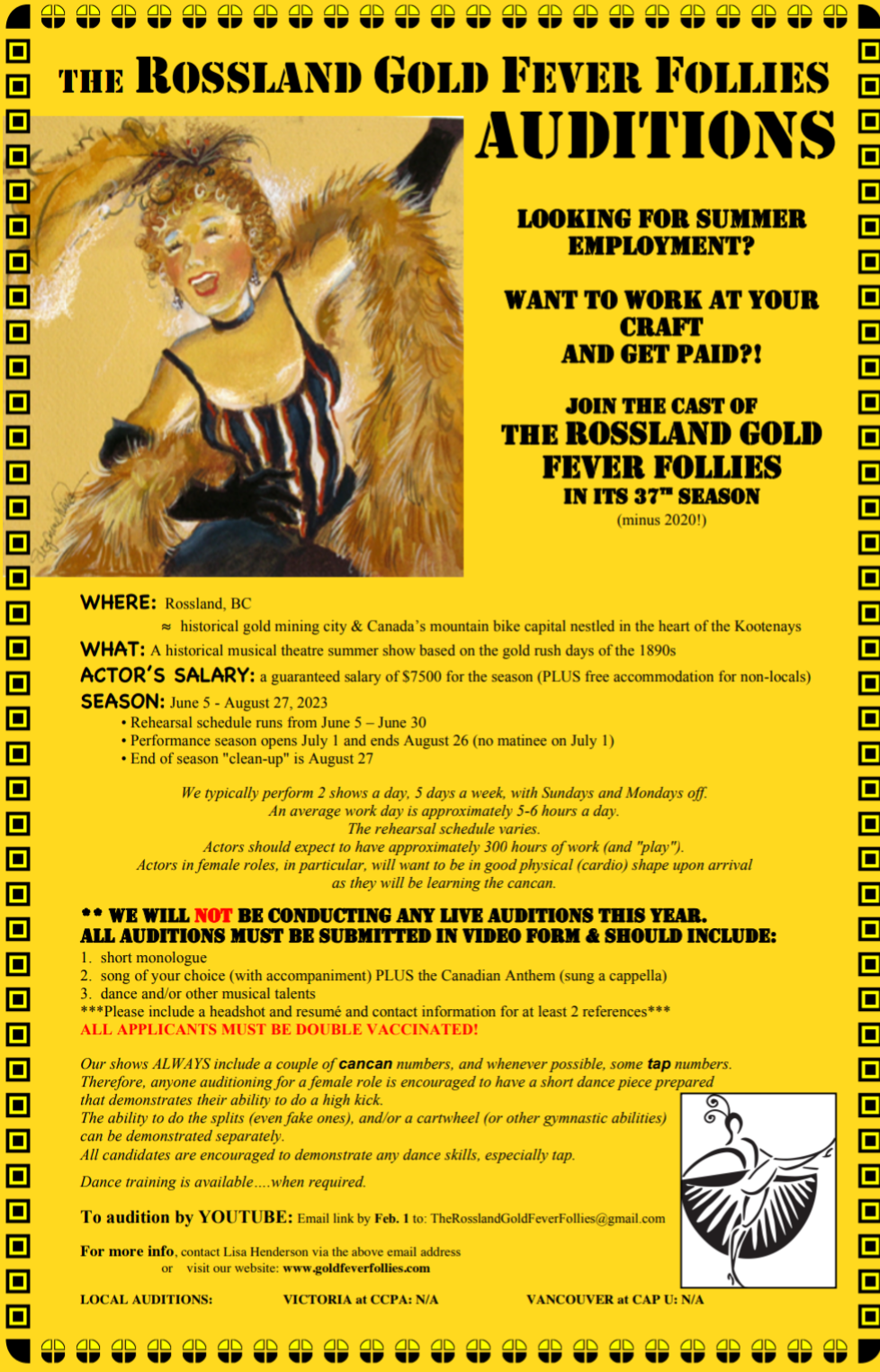 Join the cast of the Rossland
Gold Fever Follies
in its 37th Season
(minus 2020)
Where:
Rossland, BC. A historical gold mining city and Canada's mountain bike capital nestled in the heart of the Kootenays
What:
A historical musical theatre summer show based on the gold rush days of the 1890's.
Actor Salary: a guaranteed salary of $7500 for the season (PLUS free accommodation for non-locals)
SEASON: June 5 – August 27, 2023
Rehearsal schedule runs from June 5 – July 1
Performance season opens July 1 and ends
August 26 (no matinee on July 1)
End of season "clean up" is August 27
We typically perform 2 shows a day, 5 days a week with Sunday and Monday off. An average work day is approximately 5-6 hours. The rehearsal schedule varies. Actors should expect to have approximately 300 hours of work (and "play"). Actors in female roles in particular will want to be in good physical shape (cardio) as they will be learning the cancan.
ALL AUDITIONS SHOULD INCLUDE:
short monologue
song of your choice (with accompaniment) PLUS the Canadian anthem sung a capella
dance and/or musical talents
All Applicants Must Be Double Vaccinated!
***Please include a headshot, resumé, and contact information for at least 2 references***
Our shows ALWAYS include a couple of cancan numbers, and whenever possible, some tap numbers. Therefore, anyone auditioning for a female role is encouraged to have a short dance piece prepared that demonstrates their ability to do a high kick. The ability to do the splits (even fake ones), and/or a cartwheel (or other gymnastic abilities) can be demonstrated separately. All candidates are encouraged to demonstrate any dance skills, especially tap.
Dance training is available, when required.
AUDITION TOUR DATES
To audition by YOUTUBE: Email link by Feb 1 to: TheRosslandGoldFeverFollies@gmail.com
LOCAL AUDITIONS: N/A
VICTORIA at CCPA: N/A
VANCOUVER at CAP U: N/A