2023 Naughty Knickers Night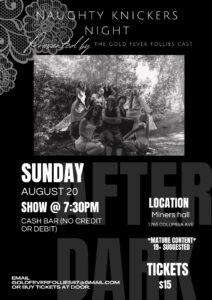 You saw it here first folks. This is the @goldfeverfollies cast inviting you to a night of classy debauchery and sultry entertainment.?
Our "Naughty Knickers Night" will be full of simmering burlesque, tantalizing melodies, and some intoxicating beverages if you wish to partake. This cabaret event is one night only! You won't want to miss out.

Date of Event: August 20th, 2023
Where: Rossland Miners Hall 1765 Columbia Ave
Doors open at 7:00 pm
Show starts at 7:30 pm
Tickets: $15
It's encouraged to get tickets in advance.
You can purchase them online at GoldFeverFollies87@gmail.com.
Cash Bar- No Debit or Credit.
This event is 19+ recommended.
Past Naughty Knickers Night Posters
Past Flip Flop Show Posters