Homegrown Talent pt 1: The Drunk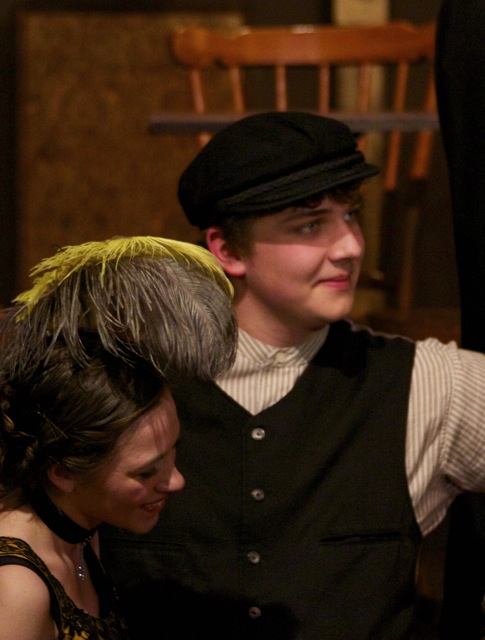 One thing the Gold Fever Follies likes to do is bring Kootenay talent onto the stage. This summer, one of those locals is Casey Gray.
"Living in this area, you sort of grow up knowing what the Follies are, or at least I have. It has always been a yearly tradition to go see the show with my Grandparents and I enjoy it every season. Throughout those years, I've seen people I know perform in the show too. I love performing myself, so an audition had been brewing for quite some time."
Working in Christmas musicals with his church, a summer production of The Tempest at a drama camp, years of playing the clarinet, and recent vocal lessons with Elaine Ryder, Casey decided to audition. And, it worked out in his favour. He was called and asked to be understudy.
"I actually found the role intimidating. It was kind of scary to think that I would have to know all of the male roles should I have to step in. But, I was ready to take on the challenge because I really wanted to be a part of the show in any way that I could."
And that he has. Casey was given the important role of Marv.
"I really enjoy playing him. I was worried that I wouldn't be able to pull off Marv's sort of effortless and unintentional comedy, but I've had a lot of fun developing him and finding ways to bring more and more out of him while still being the lovable drunk."
The trick for Casey is he's not the legal age to consume alcohol. How did he prepare for this role?
"Well, first, people find it very funny I'm playing the drunk. It's certainly out of character to who I am, but that kind of excited me about Marv. I've certainly seen type of character in movies and other media before, so I just tried to draw inspiration from what I've seen in the past and what I thought would be funny.
"I've learned so much this summer. I was worried that this experience would turn into just a summer job, but 'job' is the last word I would ever give to an experience like the Follies, at least for an impressionable teenager. It is a pleasure to go to Rossland everyday and befriend and learn from experienced performers. I've been able to practice my theater skills, and I even picked up a bit of dancing skills along the way which has been a wonderful surprise!"
We wish Casey the best with his grad year beginning in the fall.
With less than two weeks to this year's final show, four-time Follies veteran Aaron LaRocque retells his favourite moment on the Miner's Hall stage.
"Tribute!"
At the end of the 2005's finale, the male cast members rocked out by singing Tenacious D's Tribute — but with some original, personal lyrics of course.
"Having a packed audience and having so much fun on stage with good friends, I think the audience could tell we were having a blast."
Be sure to catch the show before it all ends on August 27th.