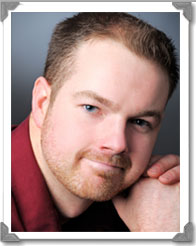 Born in North Vancouver, Matthew's love for music and for performing was inspired from an early age. His foundation in and appreciation for the performing arts was formed through his parents' influence, both of whom are professional musicians. Matthew studied voice for many years with his mother and worked his way through various music festivals earning high achievements in Music Theatre, Classical, and Contemporary categories.
Matthew's passion for the performing arts inspired him to relocate to Victoria, BC to study music, acting, and dance at the Canadian College of Performing Arts. Now a recent graduate, Matthew has continued to grow and excel with his vocal training at the Victoria Conservatory of Music where he recently has performed in their Opera Studio program.
Earlier this year, Matthew debuted in Pacific Opera Victoria's La Boheme as the role of Parpignol. He continues to sing now with the chorus, and his future hope is to become involved as a young artist in one of Canada's leading opera programs.
This is Matthew's second season performing with the Rossland Gold Fever Follies, and he is thrilled to have the opportunity to be a part of this wonderful summer theatre ensemble once again. He would like to extend his sincere thanks to Lisa Henderson, Ray Furlotte, and the entire board for all their hard work behind the scenes. He acknowledges that without their efforts, this venture would not be possible.
Thank you for coming out to enjoy our shows, and please invite your friends and family to come and share in what we love to do!