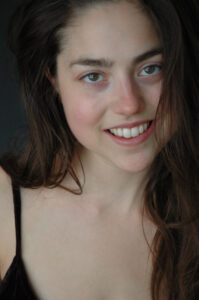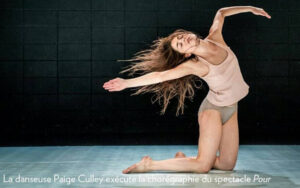 GFF 1996, 2008, 2009
(submitted 2021)
Paige Culley is a Tiohtià:ke / Montréal based dance artist originally from Rossland, BC. A graduate of the School of Toronto Dance Theatre, Culley has worked and performed extensively as a soloist with Daina Ashbee, Compagnie Marie Chouinard, and Le Carré des Lombes. Culley has produced, choreographed and performed her ongoing solo research "Shapes" and has collaborated in film, performance and opera with artists including Albéric Aurtenèche, Kìzis, Robin Poitras, Tedd Robinson, and Doris Uhlich. Culley is the recipient of the Hnatyshyn Developing Artist Grant for contemporary dance, the danceWEB scholarship at ImPulsTanz, and the "Découverte" award at the Prix de la Danse de Montréal. Currently, she is dancing as a full-time company member at Compagnie Marie Chouinard while pursuing social and post-colonial anthropological studies at Concordia University. Proceeding with gratitude, she acknowledges the many forces who have nourished and embodied the movements and traditions from which she receives so much.
"My love for the Gold Fever Follies goes way back. As a proper local Rossland kid (and one with specific connections… my mother is Lisa Henderson, need I say more?) there wasn't a season of the Follies I didn't see. In my case, some summers I saw the show nearly every day, sometimes twice a day, most always dressed in my own miniature cancan attire, and each season I fell in love with the cast, memorizing their songs and dances… and blocking..  and lines. Lisa DeWitt was a major inspiration—memories of how I felt watching her are probably some of the earliest I have of knowing I wanted to dance and sing and try to be as lovely as she was on stage. Of course I admired and idolized pretty much all GFF players! Sarah Gosh, Christie Novak, Jason Bay, Melinda Catalano, Aaron Tinsley, Mitch Bell, Leah Elkik, Catherine Adair, and of course Renée Salsiccioli to name a few. The list goes on and on and I can still see the costumes (which coloured dress someone wore, or the style of facial hair a character had glued on).
I finally appeared on the Gold Fever Follies stage the summer after grade one or two as the world's biggest super-fan extra. I sang the opening and closing chorus, posed for after-the-show photos, and got to get dressed in the girl's change room (which back then was simply the small back room of the basement area). I remember I had a tooth become quite apparently wiggly during the opening of one particular show, which then, as I continued to work at it from my backstage post, finally became free just in time for the closing song, which I thoroughly enjoyed despite a new fleshy gap in my gums and one bloody baby tooth clenched in my hand.
I started dancing in grade 4 and was immediately absorbed. I absolutely LOVED it. Even though I had been a very slight and very tiny, shy kid I became addicted to the sense of confidence and bigness I felt performing. By the end of high school I was fully charged to pursue dance professionally. After my first year at dance school in Toronto I was able to catch a glimpse of what the GFF job could truly be, filling in last minute in a minor, dance-centred role for a few weeks of the summer. By the end of that period I knew I wanted to audition for the job for real. 
The following summer I performed the famous 80-something shows, riding the ups and downs of delivering the cancan twice a day, and feeling the incredible post-show giddiness most nights of the week. Our cast was the first to develop the concept of the cabaret and spoof, now the Naughty Knickers Night, and I remember we were all incredibly shocked to have had it be such a success—sold out with a line up out the door! Most importantly, I felt so lucky to spend so much time doing what I love with truly wonderful peers and friends, at such a young age. It was truly an unforgettable time.
In the time (just over a decade) since that summer, my career as a dancer-interprête has come with its share of ups and downs. It has also held space for powerful periods of growth and truly meaningful encounters. For the past nine years I've been based in Montreal, having jumped at the opportunity to work with Compagnie Marie Chouinard, and the chance to live in a city known for its affiliation with cutting edge performance. I've had the pleasure to study and work with many great minds and bodies, tracing their impacts on my own evolving practice, and honing the ability to align with genuinely worthwhile values amidst the vast potential that is contemporary art-making. 
I've performed on stages all over the world as both a soloist and ensemble dancer, and the gratitude I feel for this experience has become increasingly magnified in our current time. I will always have a very tender place in my heart for the Gold Fever Follies, whose humble stage has supported the development and expression of immeasurable hopes, dreams and talent. Thank you to all who have nurtured this incredible tradition, Mom, Ray, Shirley and Larry, Maurice, Babs, (again, the list goes on)."
– Paige Culley