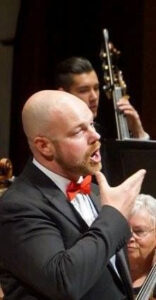 2010, 2011
(submitted 2022)
Matthew is a graduate of the Calgary Opera Emerging Artist Development Program (2013-15), and has performed in its mainstage productions of Candide (as Candide, Opera in the Village Festival, August 2014), Silent Night (as Jonathan Dale, Nov.  2014) , and Carmen (as Le Dancaire, April 2015). 2016-17 engagements included Turandot (Emperor Altoum & Calaf role study, Edmonton Opera, Oct. 2016), Turandot (Emperor Altoum, Calgary Opera, April 2016), West Side Story (as Tony, Calgary Civic Symphony, Cowtown Opera Company, June 2017. Spring 2018 Matthew performed at Theatre Calgary as Major Shelley in Lucy Simon's The Secret Garden, directed by Stafford Arima, choreographed by Marc Kimelman, and under the musical direction of Maestro Don Horsburgh. Summer of 2019 found Matthew debuting the singing role of the High Priest in the Badlands Passion Play in Drumheller, Alberta. Matthew is a member of the Canadian Actor's Equity Association. He now resides in Vernon, BC and enjoys staying active, reading, and exploring the outdoors.
"Hi all,
When I joined the Equity in 2013, I had to create a unique stage name, so I change my surname to Bruce.
I greatly enjoyed my time with the Rossland Gold Fever Follies, and grew so much both personally and as an artist. 
I performed in two seasons with the Follies (2010 & 2011). Through this time as both a performer, and later as both a cast member and stage manager, I learned many valuable skills as both a performer, and later as an administrator/manager. My two seasons with the Follies were interspersed with returning to the Canadian College of Performing Arts in Victoria, BC where I graduated with a 2-year Enriched Certificate in the Performing Arts.  
My time spent diving into the world of some of Rossland's most renowned historical figures allowed me to further my studies and hone my skills that I was learning in college. My Follies' experience was rich in helping me to develop life-long friends while learning how to collaborate with my team of fellow-emerging artists to bring the visionary tale of the Follies' creative team to life. The Follies experience helped me develop many organizational, interpersonal, and life-management skills offstage, and harness the willpower and discipline to perform over a long run of shows onstage. I am grateful to the generosity of the Follies' community, specifically the board of directors, volunteers, host families, and the artistic guidance of both Ray Furlotte and Lisa Henderson. I am hopeful the Follies can continue to flourish and contribute to the artist development of many more young artists to follow." 
–  Matthew Johnson