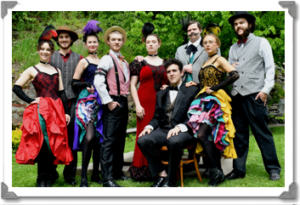 Book & Lyrics by Marnie Jacobsen
As usual, we have melded fact with fiction in this story involving real historical personalities such as Ross Thompson, founder of Rossland, and the infamous, serial-monogamous Mrs. Allan.
So….What's in a name? As Shakespeare posed such a question, so do we in this year's Gold Fever Follies presentation of historical hilarity. From Rossland's name to nicknames and everything in between, the play revolves around the most important word that places and persons identify themselves by. We hope you will enjoy finding out if a "A rose by any other name would smell as sweet".