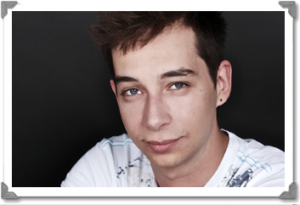 Drew, who currently lives in Toronto where he works professionally as an actor, singer, dancer and musician, was born and raised in beautiful Kimberley in the heart of BC's Rockies. Completing Grant MacEwan University's Performing Arts Program with Distinctions in Edmonton spring 2009, Drew has since performed, stage managed, written and composed for theatre companies such as Kimberley Summer Theatre and The Gold Fever Follies. In addition, he has produced work for Kokus Kompany's original musical Kulanu in Toronto. More recently, Drew produced, directed, and designed the music for Kokus Kompany's original musical NUMBERS which won the "Broadway World Award's Best Community Theatre Production 2013" last November in Toronto.
Other accolades which Drew has received include his choreography of a lyrical dance and a hip hop scene that were featured in Toronto's Hidden Talent Semi Finals, and at Dundas Square for Youth Day 2013.
Drew also performed as a featured dancer and the character "Sketch" in the musical "Hairspray" with Toronto's My Stage Left Theatre Company in June 2013.
This is Drew's fourth season writing music for the Gold Fever Follies.