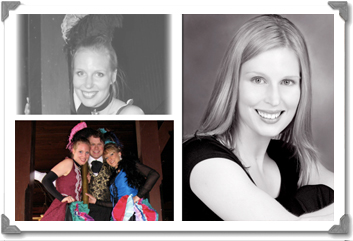 Nadine Tremblay is a graduate of the Opera diploma program at Vancouver Community College. She also holds a Certificate of Performing Arts from the Canadian College of Performing Arts (singing, dancing and acting training) located in Victoria, B.C. Most recently, you may have seen Nadine in The Vagina Monologues or the Slinky Jazz Band, performing in and around the Trail and Rossland area, or in her self-created and produced Andrews Sisters tribute Company Jump. Nadine is currently co-writing a Fringe show produced musical, has previously recorded her own original urban hip hop music and has sung/managed for several years in two touring a cappella groups, winners of the 2003 Vancouver Contemporary music contest and founders of Voxfest. Her arts administrative background includes being a production manager for Festival Vancouver, as well as in Australian performing arts festivals. Last year she worked for the BC Youth Francophone Council as Recreation and Arts Leader and prior to that she co-coordinated the YWCA Mentorship Program.
Besides her many years of managing restaurants, Nadine has spent the last year as contract artist/teacher for the Learning Through the Arts Program and is establishing the program throughout the interior of B.C.
She is excited to be part of the Follies, an artistic and most important initiative in her new home of Rossland, and she thanks the community, as well as the Follies cast and board, for welcoming her with warmth and enthusiasm. Playing the "Ugly Duckling" is therapy for Nadine as it brings back many childhood memories and Nadine is certain that her fruit pies would win no contest, least of all a man, as she's only ever made a pie once and it looked like a dog's breakfast. She would like to dedicate these performances to Genevieve Tremblay, whose talent and spirit is no longer with us.